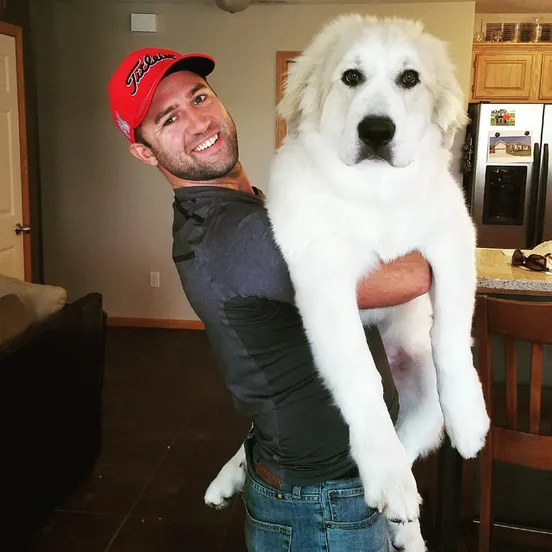 Jordan and his baby polar bear, Berkley. (We are serious when we say "baby". Berkley turned 5 months old the day this photo was taken!)
You'll see Jordan working around the clinic most days, but he also owns and operates multiple other businesses. He's usually on the run -> owning and managing multiple commercial/industrial properties across Lincoln and Nebraska. Or, you may encounter him covered in paint or operating heavy equipment. If that's the case, he's probably been out working with his construction company that provides airport /runway, roadway, and parking lot services (concrete and asphalt paving, sealcoating and traffic line striping, plus sports fields in 4 different states).
Jordan and Lauren live on an acreage with 17 animals. Including 6 dogs -> Tooski, O.P., and Moose, whom are Newfoundlands , Berkley the Great Pyrenees, Rose an Akbash, and Josephina a Labrador, 4 horses -> Queen, Georgia, and Izzie whom are Shire Draught Horses, Bubba a Thoroughbred, 5 goats (named after the Avengers -> Steve, Bruce, Bucky, Natasha, and Yelena, and 2 cats -> C.C. and Chuck.
In his spare time, he enjoys all things that involve speed and/or engines. Cars, trucks, all classes of motorcycles, and racing, He's also pursuing another childhood dream of becoming a pilot flying airplanes. You could call him an adrenaline junky with "the need for speed".